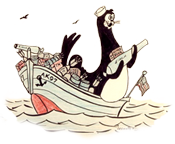 USS Serpens AK 97 Commemorative Website - Ships Log

Hull laid down, 10 March 1943 (MC hull 739)
Launched, 5 April 1943
Acquired by the Navy: 19 April 1943
Commissioned 28 May 1943 in San Diego
Following shakedown off southern California, the ship entered San Diego harbor where the ship to the destroyer base for refitting. Liberty Ships were designed for a crew of 43 merchant seamen, two cadets, and approximately 25 of Armed Guard sailors depending to their availability for service. The USS Serpens had a compliment of over 200 sailors, combined with the "stores" the ship was very crowded.
After this the USS SERPENS loaded railroad rails and general cargo at Alameda and then on 24 June 1943, sailed west to assume provision ship duties in support of operations in the Solomon Islands.
By mid-July, the USS SERPENS was in the Tonga Islands.
At the end of the month, she was en route from New Caledonia to New Zealand; and, by mid August, she had emptied her holds at Wellington.
The USS SERPENS then took on more cargo, returned to New Caledonia, and commenced a series of short hauls to Vitu Levu, Tutuila, Penrhyn, Bora Bora, Aitutaki, and Tongatabu.
On 9 November 1943, USS SERPENS returned to New Caledonia. In early December, she moved into the southern Solomons, and, after completing a Florida Island-Banika Island run, she stood off Lunga Point, Guadalcanal, to load cargo for Bougainville.
During January 1944, she completed two runs into Empress Augusta Bay. In February, she was ordered back to New Zealand for drydocking before loading dry provisions.
From March to July, 1944, the USS SERPENS delivered consignments to bases in the New Hebrides and the Solomons, returning to New Zealand to reload only once.
In July 1944, she was at Purvis Bay for the installation of SF-1 radar.
23 August 1944 The USS SERPENS Anchored with the USS Denver, Port Purvis, Florida Island. Port Purvis, Florida Island, Solomon Islands Group.
28 August 1944 The USS SERPENS Anchored USS HONOLULU (SOPA) and the USS DENVER. Port Purvis, Florida Island, Solomon Islands Group.
She then resumed operations and, through October, carried general cargo and rolling stock between ports and anchorages in the Solomons.
In mid-November 1944 the SERPENS loaded repairable vehicles from the Russells and from Guadalcanal and sailed for New Zealand where, after offloading, three of her holds were converted for ammunition stowage.
Late in December 1944, the USS SERPENS commenced loading at Wellington, finished it at Auckland, and returned to the Solomons in mid-January 1945.
The USS SERPENS was lost due to an explosion while loading depth charges, 29 January 1945, anchored off Lunga Beach, Guadalcanal, Solomon Islands.
Struck from the Naval Register, (date unknown).