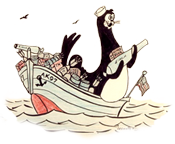 USS Serpens AK 97 Commemorative Website - Survivor Page

Sunday, May 29, 2005 - Alone on a wide, wide sea
Sixty years ago 250 men died when the USS Serpens exploded off the Solomon Islands. There were only two survivors. Kelsie Kemp of Wythe County tells his story.
By Donna Alvis-Banks - 381-1661 - The Roanoke Times
"The death fires danced at night. The water, like a witch's oils, burnt green and blue and white." - "The Rime of the Ancient Mariner," Samuel Taylor Coleridge
Kelsie Kemp ran his tongue over his teeth. Back and forth, back and forth - it scraped across the rippled ridges of incisors, pressed hard into a sharp canine and came to rest on the flat molars inside his cheek. No holes. He ran it over his teeth again. Again and again. Back and forth. All his teeth were there.
But the death fires danced on the water and thick smoke swirled around him. He was covered with oil. Thick, greasy oil that choked the pores of his skin and made his skivvies stick to him like a giant, slimy leech.
Through the blood filling his left eye, he saw the fireball. He began to tremble.
The pain began to come from some deep, dark place in his skull. Growing more intense, the throbbing mixed in his head with the nearby groans of his buddy, George Kennedy Jr.
Just moments before, Kemp had been drifting into the soft subconsciousness of sleep, lulled by the deep waters underneath the 14,250-ton Coast Guard ship called the USS Serpens. Her name had come from the heavens, from the ancient constellation of stars forming the shape of a long, writhing snake in the night sky.
But there were no stars to be seen on this night: Jan. 29, 1945.
There was just death. In all, 250 men lost their lives in what remains the worst disaster in the history of the U.S. Coast Guard and would later result in the largest group burial at Arlington National Cemetery.
"The many men so beautiful, And they all dead did lie. And a thousand slimy things lived on; and so did I."
Kelsie Kemp was ready to see the world.
The boy who helped his father and grandfather on their farms in the shadows of Dry Pond Mountain had never been anywhere since his family moved from West Virginia to Wythe County's Barren Springs community when he was 4. The Coast Guard, he decided, was the way to venture out. He knew it was just a matter of time until he was drafted anyway. America had plunged into World War II a year earlier when the bombs fell on Pearl Harbor.
His older brother already had resolved to join the Coasties, lured by the excitement of sinking German submarines and the valor of rescuing survivors of enemy torpedo attacks thousands of miles away.
But Kemp was only 17, leaving him in 1942 with two options. He could lie about his age. Or he could get his parents' permission.
"My daddy signed my name," the 79-year-old man remembers now. His eyes are still blue, as blue as the Pacific where he would wind up two years later, anchored off Lunga Beach, Guadalcanal, in the South Pacific's Solomon Islands.
When Kemp beheld the USS Serpens, his first thought was that it looked like a city on water.
Built by the California Shipbuilding Corp. in Wilmington, Calif., the 441-foot ship glistened when she was launched on April 5, 1943. She was commissioned at San Diego the following month as an auxiliary cargo ship - or AK - and by mid-July was in the Tonga Islands, a cargo-packed, lumbering military vessel that crews often called "a floating packing case . . . with booms."
The Serpens' unglamorous job was vital in the war effort. In her slow-moving, determined style, she kept supply lines - the lifeline of war - open and running through the great vastness of the Pacific battle zone.
For months upon months, the Serpens plowed through the Pacific, delivering consignments to bases in New Hebrides and the Solomons, returning to New Zealand to reload. By the time Seaman 1st Class Kemp celebrated Christmas of 1944, he was friends with the more than 200 men who worked alongside him under the command of Lt. Cmdr. Perry Stinson.
He knew which men got violently seasick as the Serpens churned through merciless waves. And which ones got unbearably homesick when letters from wives and girlfriends back home finally arrived.
Kemp didn't get seasick - or unbearably homesick, for that matter.
"I loved the work," he said.
"He loved the Coast Guard," added the Barren Springs woman he would later marry - Elsie. "He would have stayed in if the explosion hadn't happened."
It was sultry that January night - at least 100 degrees. Lt. Cmdr. Stinson and seven others , another officer and six enlisted men were on the Guadalcanal shore a mile away. The rest of the crew - 195 Coasties and 56 Army stevedores, as well as a physician, Dr. Harry Levin - were on board. Hands were loading depth charges into the Serpens' belly.
Kemp didn't relish the idea of bunking in the close quarters of the berth deck in such heat, so he had thrown his cot down in the ship's bow near the boatswain's locker where he had been working, issuing tools and supplies to his shipmates.
His pal, Seaman 2nd Class George Kennedy, a friendly Texas country boy, had decided to sack out on the open deck.
"It was hot. The South Sea Islands is always hot. Ole Kennedy was going to sleep on a hammock under the guns," Kemp remembered. "But it looked like rain."
Kennedy soon joined Kemp in the boatswain's locker.
By 11:17 p.m., they were both sleeping when the Serpens exploded.
Kemp doesn't remember the blast that people on shore reported hearing as far as 65 miles away. He only remembers holding onto the twisted remains of the bow as it bobbled in the Pacific waters.
"Everything was floating," he said. "Lumber, bodies, pieces of fish, all that old oil and stuff."
"I thought once about trying to swim, but I thought, 'I can't swim.' Somehow, I made it to the light."
Searchlights of approaching rescue boats penetrated what Kemp remembered as a "black hole," the space on the deep sea where he waited, listening to the groans of his friend.
It had seemed an eternity before help arrived, but Kemp estimates it was about an hour. The only sounds to keep him company were those of the injured Kennedy. He managed to tell his rescuers that he was not alone.
Kemp recounts what happened the day of the explosion.
"They'd probably have left George out there if I hadn't said something about him."
"The souls did from their bodies fly. They fled to bliss or woe! And every soul it passed me by."
"They dug 16 holes at Guadalcanal," Kemp said. There, they buried the remains of his fallen friends.
"There wasn't but three IDs out of the whole bunch. One was the biggest ole boy we had on there. He didn't have no head."
Sixty years have passed since Kemp survived the Serpens.
He spent the first month in a military hospital on Guadalcanal, recovering from a fractured skull, a knee injury and a multitude of cuts and bruises, including one gash that nearly took out his left eye.
Kennedy, the only other survivor, recovered from a broken collar bone.
For some time, Kemp and Kennedy maintained contact with each other, sending letters and Christmas cards between Virginia and Texas.
Kemp has a black-and-white photograph of a chubby toddler with blond curls. Underneath her patent leather shoes, the name Lynda Joy Kennedy is written in blue ink. On the back is a message from her father: "To Kelsie. May your Xmas be the happiest ever."
But somehow, as time passed and life got busy, the letters and cards lapsed.
"I sent a Christmas card and never did get no return," Kemp said.
At first, the explosion that destroyed the Serpens was attributed to enemy action. Initial reports mentioned that a submarine contact was being investigated at the time of the explosion. A court of inquiry later said the cause couldn't be determined from the remaining evidence. In 1949, the Navy officially announced that the loss was not due to an attack but to "an accident intrinsic to the loading process" of the depth charges.
But Kemp and Kennedy were both awarded Purple Hearts. Kemp's medal hangs under glass, alongside his other military ribbons, in the living room of the house he and Elsie have lived in for 54 years. He looks at it, mostly without really seeing it, every day.
He doesn't believe the world will ever know the true story of what happened to the Serpens.
"Ain't no way in the world that they know what happened," he said of the Navy's report. In the back of his mind, he holds to a belief that the Serpens was destroyed by a Japanese submarine, remembering the Japanese weather plane he saw flying near the ship on the day of the disaster. The plane, he believes, was tracking the Serpens' movement.
"That sub just waited till we got everything on and then just let us have it," he says in one breath.
But in the next, his conviction falters.
"I wonder sometimes if it really was or not. There were other ships out there and they wasn't hit."
Sixty years later, Kemp's blue eyes still swell with tears when he talks about what happened.
The remains of his fellow sailors were later exhumed from Guadalcanal and taken to Arlington National Cemetery for reburial on June 15, 1949.
There were 52 caskets placed in 28 graves, making it the largest group burial at Arlington. Two grave sites in the center of a block of 30 were reserved for an octagonal memorial that bears the names of all 250 men.
It was because of Elsie's coaxing that Kemp attended the 60th anniversary memorial service there this February. It wasn't the first pilgrimage he had taken to Arlington.
But, he later said, it would be his last.
"He went like one that hath been stunned, And is of sense forlorn. A sadder and a wiser man."
At 79, Kemp is still sharp of mind. Still gets around. Still has his teeth.
But still, in a sense, he is alone on a wide, wide sea.
His eyes don't connect in conversation. He gazes at something far away.
"I believe God was with me. Had to be," he says of his feelings about being perhaps now the lone survivor of the Serpens disaster.
It is, unquestionably, his albatross.
"After we came back from war, we was trying to find jobs and go to work," he recalled as he gazed at the mountains surrounding the place where he and Elsie set up housekeeping so many years ago. "I didn't know what to call flashbacks. It was a new word for me. I guess I had them and didn't know what to call them. I just tried to keep it clear out of my mind."
In 1945, the 19-year-old Kemp sent a telegram to his family, asking for $100 to come home. His mother, "like an ole Mama cat licking the kitten," spent days cleaning the oil that had saturated the pores of his skin when the ship exploded.
Kemp married Elsie, became a barber, raised four children, tended a garden, sang in the choir at Glenwood United Methodist Church. He never again strayed far from the place where his parents and grandparents settled.
He found contentment in his life here.
When he thinks about the men who died aboard the Serpens, he thinks of them as heroes. The men who risked their lives in little boats searching the burning waters of the Pacific were heroes, too, he thinks.
"One of them boys saw I was cold and took his shirt off and give it to me," he remembered, his voice faltering.
He says he won't be buried at Arlington National Cemetery. Those buried there are where they belong.
He belongs on the hill facing Dry Pond Mountain. With family. Not alone, but at peace. And at home.