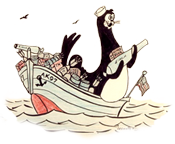 USS Serpens AK 97 Commemorative Website - Statistics Page

The "Liberty Ship" was originally designed for a crew of 43 merchant seamen, two cadets, and a number of Armed Guard sailors that varied according to their availability but it was normally around 25 or so. They had eight 20mm, a 3"/50 on the bow, and a 5"/38 on the stern to operate, plus the magazines on the 'tween deck level. There was usually a spare foc's'le or two on the boat deck for an Army cargo officer or passenger. The officers ate in the saloon located on main deck level forward in the house. On either side of that were two "dorm" rooms for the Armed Guard and they had their own toilet and shower. The AG had their own messroom portside forward of the pantry while the merchant crew ate portside aft of the pantry.
The 60 Crater-class AKs were all converted from standard Maritime Commission E-C2-S-C1 Liberty ships. The Navy wanted their own cargo ships that were under their direct control and could operate in forward areas if necessary. Their deadweight tonnage was considerably less than a standard Liberty of course due to the much larger crew accomodations added in the 'tween deck spaces.

The US Navy operated quite a few Maritime Commission (War Shipping Administration) vessels during the war, usually on a "bareboat" charter basis, and returned the ships after the war, however the Navy converted and kept the Crater-class ships.
The Coast Guard Manned USS Serpens, AK-97
Named after a constellation in the Northern Hemisphere
Builder: California Shipbuilding Corporation, Wilmington California
Class: Crater Cargo Ship, Maritime Commission Standard Type: EC-2 SC-1
Sponsored by Mrs. H. P. Needham
The hull was laid down, 10 March 1943 (MC hull 739)
Launched, 5 April 1943
Acquired by the Navy: 19 April 1943
Commissioned 28 May 1943 in San Diego; Lt. Comdr. Magnus J. Johnson, USCGR, in command
Ships Complement: 206
Length: 441' 6"
Beam: 56' 11"
Draft: 27' 7"
Displacement: 14,250 tons
Top speed: 11 knots
Reciprocating steam engine, single shaft, 2,500hp
Armament: One 5"/38 dual purpose gun mount, two 40mm and six 20mm anti-aircraft cannons